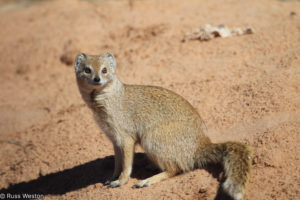 They are mainly diurnal, although some nocturnal activity has been recorded. Insects form the major part of the yellow mongooses diet, but they also eat mice, as well as birds and birds' eggs. Predators of the yellow mongoose are birds of prey, snakes and jackals.
Members of these species don't all look alike: in the warmer north, the yellow mongooses are grey and have shorter hair and tails, and smaller bodies, than their southern counterparts.
The northern form also lack the white tip to the tail. Usually two young are born, in clean chambers of the burrow system, with no bedding material.